Shop for Teacher Resources & Teaching Materials by Category
KE-847009: Ready-to-Go Math Manipulatives: 75 Cut-Up Giant Number Line & Base-Ten Models (Grades 1-2)
In order to view some of the Sample Pages you need Adobe Acrobat Reader. If you need to download Adobe Acrobat Reader, click the button below: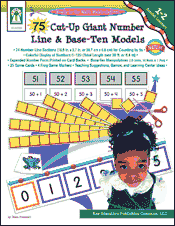 Ready-to-Go Math Manipulatives: 75 Cut-Up Giant Number Line & Base-Ten Models (KE 847009)
Grade Level: First - Second Grade
Price: $8.99
Product #: 3847009
Sample Pages

24 Number-Line Sections (9.5 in. x 2.5 in. or 24 cm x 6 cm) for Counting by 5s
Colorful Display of Numbers 0–120 (Total Length over 19 ft. or 5.8 m)
Expanded Number Form Printed on Card Backs
Base-Ten Manipulatives (10 Units, 10 Rods, and 1 Flat)
25 Game Cards
4 Frog Game Markers
Teaching Suggestions, Games, and Learning Center Ideas
Made of heavy card stock, these books are meant to be cut apart and used interactively for a huge variety of hands-on learning options!

Teach counting by 5s and 10s, expanded notation, and base-ten concepts with a giant number line and base-ten manipulatives. Color-coded number line goes from 0–120, breaks down into 24 sections, and has expanded notation printed on the back. Over 19' long. Also includes 10 units, 10 rods, and 1 flat for base-ten activities, plus an addition/subtraction game where frogs jump the number line. Includes teaching suggestions, learning center ideas, and games.
Supports NCTM standards.
24 pages - Special Learners
You may also like:
Our entire collection of Math Manipulatives
Our collection of materials for teaching Numbers
Our complete collection of Math teaching materials
Key Education / Carson Dellosa
---
Free Shipping Promotion: All orders $75.00 and over receive free parcel post shipping via the United States Postal Service (within the contiguous United States). In stock orders ship within 24 hours.

Free Resources :

100% Secure Shopping

Testimonials
I am a stay at home mom who values education very much, and these resources have been able to help me start my child's education early in order to give her a head start before she even enters into school. - Heather L.
The resources I received will help me tremendously with reading skills. I was amazed at how quickly I received my order. - Annette H.
My son needed some additional work with his fine motor skills to prepare him for Kindergarten next year. We work out of the books I ordered. He does his "homework" when my older son is completing his after school. He loves it! It makes him feel like a big boy. I was amazed that my order arrived two days after I placed it, especially because it was the Holiday season. - Dawn M.
I purchased the full color Kindergarten file folder games, and my students love them. We use them daily during our literacy groups. Your service was great! - Cindy M.
They provide a variety of ways to reach different students and allow me to vary my activities year-to-year. - Staci M.
I have used all the materials with my Kdg. class and found them to be so appropriate. The children enjoy them. - Jennifer C.
Read More...