Shop for Teacher Resources & Teaching Materials by Category
TCR2771: Teacher Templates for Microsoft Office (Grades K-12)
In order to view some of the Sample Pages you need Adobe Acrobat Reader. If you need to download Adobe Acrobat Reader, click the button below: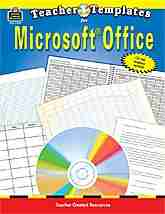 Teacher Templates for Microsoft Office (TCR 2771)
Grade Level: Kindergarten - 12
Price: $18.99
Product #: 1002771
Sample Pages

Choose from more than 120 Windows or Mac templates specially designed for teachers. Use them to calculate grades, make seating charts, generate reports, and create dazzling multimedia presentations. All of the templates are designed using Microsoft Office.
This teacher resource book is divided into 3 sections that contain templates created by the 3 applications in Microsoft Office: Microsoft Word, Microsoft PowerPoint, and Microsoft Excel. Each of these sections is then divided again into two sections, templates for teachers and templates for students.
The Microsoft Word section of this teaching book contains templates for the following uses and more:
Seating Charts
Maps
Classroom Management Plan
Discipline Notice to Parents
Student Awards
Voyages to the Past
School Rules
Letters Home for Parents
The Microsoft PowerPoint section contains templates for a variety of topics that will allow the user to create fun and meaningful multimedia presentations. These include:
Open House
Department Personnel Information with course overviews
Microsoft Excel templates consist of a grade book and a lesson plan chart for teachers. There are a variety of math template worksheets for students. Automatic scoring on the computer will allow the student to self-correct homework and class assignments.
The Student Information Database is a template created with Microsoft Access and is a unique database program. Teachers can also modify this template and use Microsoft Access to build student schedules and maintain teacher assignments and profiles. Another feature includes an easy overview of student grades, schedules and progress reports. Microsoft Access can be run on your school-wide network.
Requires Microsoft Office 97/98 or above.
Pages: 112
You may also like:
Computer Activities A-Z
Our collection of Teacher Classroom Resources, Forms, Rewards, etc.
Our complete collection of Technology teaching materials
Teacher Created Resources
Free Shipping Promotion: All orders $75.00 and over receive free parcel post shipping via the United States Postal Service (within the contiguous United States). In stock orders ship within 24 hours.

Free Resources :

100% Secure Shopping

Testimonials
I am a stay at home mom who values education very much, and these resources have been able to help me start my child's education early in order to give her a head start before she even enters into school. - Heather L.
The resources I received will help me tremendously with reading skills. I was amazed at how quickly I received my order. - Annette H.
My son needed some additional work with his fine motor skills to prepare him for Kindergarten next year. We work out of the books I ordered. He does his "homework" when my older son is completing his after school. He loves it! It makes him feel like a big boy. I was amazed that my order arrived two days after I placed it, especially because it was the Holiday season. - Dawn M.
I purchased the full color Kindergarten file folder games, and my students love them. We use them daily during our literacy groups. Your service was great! - Cindy M.
They provide a variety of ways to reach different students and allow me to vary my activities year-to-year. - Staci M.
I have used all the materials with my Kdg. class and found them to be so appropriate. The children enjoy them. - Jennifer C.
Read More...