Shop for Teacher Resources & Teaching Materials by Category
TCR 3231: Patterning & Sequencing (Grades PreK-1)
In order to view some of the Sample Pages you need Adobe Acrobat Reader. If you need to download Adobe Acrobat Reader, click the button below: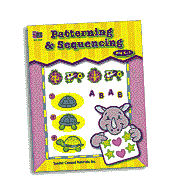 Patterning & Sequencing (TCR3231)
Grade Level: Preschool - 1st Grade
Price: $7.99
Product #: 1003231
Sample Pages

Visually stimulating activities with simple directions introduce young learners to new concepts and academic skills while offering lots of enjoyable practice.
Patterns are part of our everyday lives. Wherever we look, we see patterns. There are patterns in nature, in fabrics, in floor tiles, and even tire tracks! There are patterns in numbers, words, colors, and rhythms. Breaking down patterns and creating or identifying patterns help children begin to break down codes in reading, math, writing, and spelling.
This book is an introduction to different types of patterns designed to enhance an awareness of shapes, pictures, letters, numbers, and words.
Sequencing is another important standard for young children to understand. Figuring out sequences is vital for solving problems in everyday situations. Children learn to follow directions in a sequence. Organization of thoughts is also connected to sequencing. A variety of activities have been included to help your child use sequencing skills effectively and to give him or her the tools needed to transfer these skills to everyday situations.
These easy-to-use workbooks are great for enrichment, classroom practice, tutoring, home schooling, or just for fun!

Pages: 48
You may also like:
Numbers, Shapes, and Colors
Sort, Graph, and Tally
Measurement
Money
Classifying
Tracing & Cutting
Opposites and Visual Skills
Our entire collection of teaching resources for Patterning & Sequencing
Our entire collection of Math teaching materials
Our complete collection of Basic Skills teaching materials
Teacher Created Resources
---
Free Shipping Promotion: All orders $75.00 and over receive free parcel post shipping via the United States Postal Service (within the contiguous United States). In stock orders ship within 24 hours.

Free Resources :

100% Secure Shopping

Testimonials
I am a stay at home mom who values education very much, and these resources have been able to help me start my child's education early in order to give her a head start before she even enters into school. - Heather L.
The resources I received will help me tremendously with reading skills. I was amazed at how quickly I received my order. - Annette H.
My son needed some additional work with his fine motor skills to prepare him for Kindergarten next year. We work out of the books I ordered. He does his "homework" when my older son is completing his after school. He loves it! It makes him feel like a big boy. I was amazed that my order arrived two days after I placed it, especially because it was the Holiday season. - Dawn M.
I purchased the full color Kindergarten file folder games, and my students love them. We use them daily during our literacy groups. Your service was great! - Cindy M.
They provide a variety of ways to reach different students and allow me to vary my activities year-to-year. - Staci M.
I have used all the materials with my Kdg. class and found them to be so appropriate. The children enjoy them. - Jennifer C.
Read More...