Shop for Teacher Resources & Teaching Materials by Category
TEC3080: Out & About Math (Grades 1-2)
In order to view some of the Sample Pages you need Adobe Acrobat Reader. If you need to download Adobe Acrobat Reader, click the button below: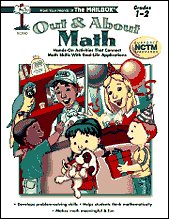 Out & About Math (TEC 3080)
Grade Level: First Grade - Second Grade
Price: $11.95
Product #: 2003080
Sample Pages


This is the perfect resource to help your students make the connection between the math skills they learn in the classroom and their real-life applications. Packed with loads of thematic fun, each activity helps teach national math standards in a developmentally appropriate way.
Contains nine curriculum-based teaching units. Each unit features a different real-life location, such as the playground, the flower shop or the pet store. To bring the feel of the different locations into the classroom most units begin with directions for setting up a center area that replicates the location.
The various hands-on activities can then be completed by students visiting the center. The activities within each unit are designed to "pull-out" the math that would naturally occur in the featured location. Specific skills are listed at the beginning of each activity so you'll quickly know which skills are being reinforced.
Each unit contains student reproducibles and/or pattern pages used in conjunction with the activities. The activities are designed to encourage your students to use higher-level thinking and problem-solving skills with real-life applications.
Includes activities for:
Number and Operations

Algebra (creating & extending patterns, sorting)

Geometry (coordinate points, plane figures, solid shapes, spatial relationships)

Measurement (adding coins & bills, bill & coin combinations, making change, calendar, time, weight)

Data Analysis and Probability (graphs, charts, surveys, displaying & interpreting data)
Pages: 64
You may also like:
The Best of The Mailbox Math: Book 2
Math Skills Workout (First Grade)
Math Skills Workout (Second Grade)
Math Mind Builders (First Grade)
Math Mind Builders (Second Grade)
Our complete collection of First Grade Math teaching materials
Our complete collection of Second Grade Math teaching materials
The Education Center
---
Free Shipping Promotion: All orders $75.00 and over receive free parcel post shipping via the United States Postal Service (within the contiguous United States). In stock orders ship within 24 hours.

Free Resources :

100% Secure Shopping

Testimonials
I am a stay at home mom who values education very much, and these resources have been able to help me start my child's education early in order to give her a head start before she even enters into school. - Heather L.
The resources I received will help me tremendously with reading skills. I was amazed at how quickly I received my order. - Annette H.
My son needed some additional work with his fine motor skills to prepare him for Kindergarten next year. We work out of the books I ordered. He does his "homework" when my older son is completing his after school. He loves it! It makes him feel like a big boy. I was amazed that my order arrived two days after I placed it, especially because it was the Holiday season. - Dawn M.
I purchased the full color Kindergarten file folder games, and my students love them. We use them daily during our literacy groups. Your service was great! - Cindy M.
They provide a variety of ways to reach different students and allow me to vary my activities year-to-year. - Staci M.
I have used all the materials with my Kdg. class and found them to be so appropriate. The children enjoy them. - Jennifer C.
Read More...