In order to view some of the Sample Pages you need Adobe Acrobat Reader. If you need to download Adobe Acrobat Reader, click the button below: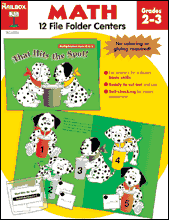 Math File Folder Centers (TEC60924)
Grade Level: Second - Third Grade
Price: $19.95
Product #: 2060924
Sample Pages
Table of Contents


Durable centers that are ready in minutes!
No coloring or gluing required!
Fun practice for a dozen basic skills
Ready to cut out and use
Self-checking for instant assessment
Grab their attention and focus on essential skills. These durable, easy-to-use file folder centers provide fun, self-checking practice of basic skills for your students. Tear out the ready-to-use center, cut out the cards, and go!
With this teaching resource you'll get 12 complete, self-checking learning centers. No time-consuming preparation or costly materials are needed. Simply tear out each file folder center, cut out the center cards, and use!
Each center provides practice with an important math skill for grades 2-3 including:
addition facts to 18
subtraction facts to 18
fact families
addition of larger numbers without and with regrouping
subtraction of larger numbers without and with regrouping
multiplication facts 0 to 5
multiplication facts 5 to 9
place value to thousands
These engaging file folder centers are perfect for independent practice or for early finishers. Have a whole new assortment of learning centers ready in just minutes with this teacher resource! They're so easy to prepare, you can try them in your classroom today!
104 pages
You may also like:
Full Color Math Literacy Activities: Grades 1-2
The Best of The Mailbox Magazine: Learning Centers
Learning Center Collection-Math: Second Grade
Our complete collection of File Folder Centers
The Education Center
---