Shop for Teacher Resources & Teaching Materials by Category
TEC61024: The Best of The Mailbox Learning Centers (Grades 2-3)
In order to view some of the Sample Pages you need Adobe Acrobat Reader. If you need to download Adobe Acrobat Reader, click the button below: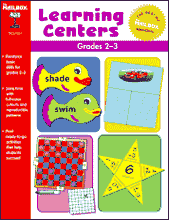 The Best of The Mailbox Learning Centers (TEC 61024)
Grade Level: Second - Third Grade
Price: $16.95
Product #: 2061024
Sample Pages
Table of Contents

This handy teacher resource is packed full of creative learning-center ideas. Your students will get the benefit of hands-on learning with the best learning-center games and activities from THE MAILBOX magazine. Now featuring ready-to-go, full-color, tear-out pieces for select centers!
The teacher-tested activities in this handy educational resource will let your second and third grade students learn at their own pace as they build basic skills. Your students will practice a number of key skills with these creative learning center ideas, such as:
Phonics
Homophones
Contractions
Parts of speech
Letter writing
Multiplication and division
Addition and Subtraction
Money
Fractions
Plus more skills for grades 2-3!
The center ideas in this teaching resource book are organized by center areas, such as language arts, math, and social studies, plus and extra section of art center activities. So whether you want to set up a writing center or have students practice their addition or multiplication skills, finding the perfect activity is a snap. Reproducible patterns and a variety of pull-out, colorful cutouts are included to help you create your centers in record time.
128 pages
You may also like:
Learning Center Collection Language Arts & Math: Second Grade
Math File Folder Centers
Language Arts File Folder Centers
Our entire collection of The Best of The Mailbox series of books
The Mailbox Magazine
Our entire collection of Learning Centers and File Folder Centers
The Education Center
---
Free Shipping Promotion: All orders $75.00 and over receive free parcel post shipping via the United States Postal Service (within the contiguous United States). In stock orders ship within 24 hours.

Free Resources :

100% Secure Shopping

Testimonials
I am a stay at home mom who values education very much, and these resources have been able to help me start my child's education early in order to give her a head start before she even enters into school. - Heather L.
The resources I received will help me tremendously with reading skills. I was amazed at how quickly I received my order. - Annette H.
My son needed some additional work with his fine motor skills to prepare him for Kindergarten next year. We work out of the books I ordered. He does his "homework" when my older son is completing his after school. He loves it! It makes him feel like a big boy. I was amazed that my order arrived two days after I placed it, especially because it was the Holiday season. - Dawn M.
I purchased the full color Kindergarten file folder games, and my students love them. We use them daily during our literacy groups. Your service was great! - Cindy M.
They provide a variety of ways to reach different students and allow me to vary my activities year-to-year. - Staci M.
I have used all the materials with my Kdg. class and found them to be so appropriate. The children enjoy them. - Jennifer C.
Read More...